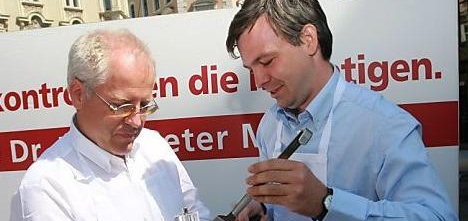 Hans-Peter Martin
Martin Ehrenhauser
Facts
According to his longtime employee and supporter Martin Ehrenhauser, Hans-Peter Martin misappropriated a signficant part of the EUR 2.3 million awarded to him by the state after the EU elections of 2009. Such funds are awarded to all parties who win seats in an election and may be used to cover campaign costs only.
Ehrenhauser accuses Martin of illegally claiming private expenses, nepotism and deceiving auditors. He has announced that he will report Martin to the prosecutor's office for embezzlement, misappropriation and document forgery and has called for him to step down as an MEP.
Ehrenhauser has quit Hans Peter Martin's List and will continue his work in the European Parliament as an independent.
Stakeholders
Hans-Peter Martin, MEP since 1999, has worked with Martin Ehrenhauser since 2007. He denies all allegations, calling it a character assasination campaign by a disgruntled colleague. Website
Martin Ehrenhauser became an MEP in 2009 after working as the head of Hans-Peter Martin's office. Website · @mehrenhauser